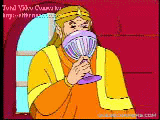 Mah boi is a part of a quote from The King spoken to Link. The full quote is:
"Mah boi, this peace is what all true warriors strive for!"
Since then, it has become a very popular internet meme, appearing in many Youtube Poops. Other lines spoken by The King have risen to popularity, though most of them have been edited so he says ridiculous things.
The reason it is spelled "Mah boi" instead of "My boy" is simply because of the ludicrous accent of The King